Community Fund Recipients Fall 2021
Actions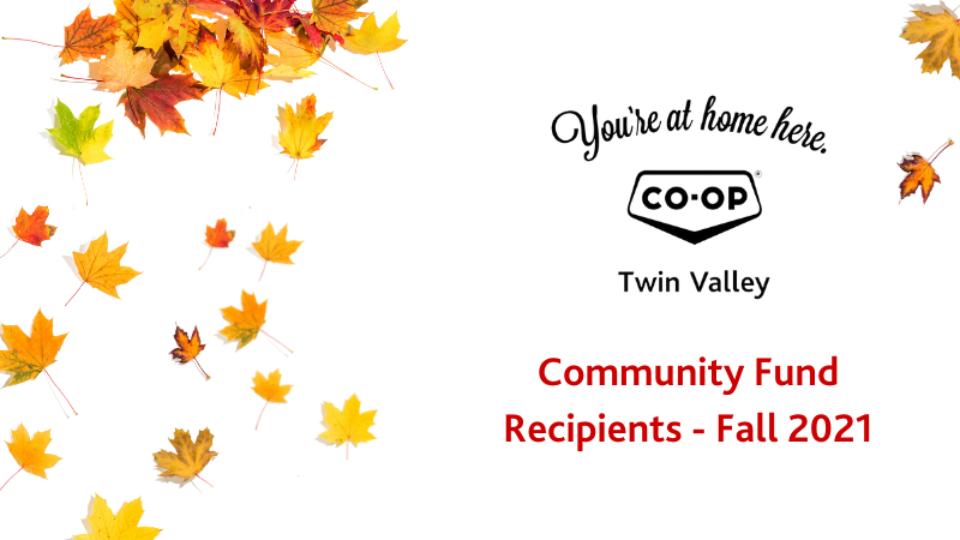 Community Fund Recipients Fall 2021
October 18, 2021
Twin Valley Co-op is pleased to be able to contribute positively to the communities in which we do business. TVC implemented a "You're at home here" Community Fund that allows the Co-op to substantially commit to larger scale local initiatives that request funding outside the parameters of our current Member Relations donation program.
The Board of Directors review donation requests twice per year; March 1 and September 1. Requests must be for a project that is long term and enhances the improvement of the community which meets TVC's criteria and Brand Values: Integrity, Commitment, Sustainability and Innovation.
Twin Valley Co-op Board of Directors are pleased to announce their recipients for Fall 2021.

Congratulations to these community projects:

• Silverton Community Club - $10,000: Silverton Curling Club is in the process of upgrading their arena facility, with construction starting in summer of 2022 in the arena area. It is a great recreation facility complete with hall and kitchen area. It is a meeting place for all ages, organizations and functions within the community. TVC has donated $5000 by cheque, and $5000 in product.
• Birtle Collegiate - $10,000: Birtle Collegiate has a goal to install free-standing playground equipment (climbing apparatus) on the Birtle Collegiate school grounds to provide opportunities for middle years students, Grade 5-8 and daycare children to practice agility, balance and coordination skills.
• Birdtail Sioux First Nation - $8,000: Birdtail Sioux First Nation has built a Community Healing Garden to honour Residential School Survivors. The garden is a place of truth and reconciliation for all peoples with a commitment to partner and walk in right relations with each other, and provide a gathering place in the community.
Twin Valley Co-op is excited to work with each organization and help them meet their project goals.
❤️ Thank you for shopping local with Twin Valley Co-op and helping us further invest in our community.
#WeAreTwinValleyCoop #CoopWeek2021
#locallyinvested #communityminded
For more information on how to apply, please see our website:
https://www.twinvalleyco-op.crs/sites/twinvalley/local/detail/youre-at-home-here-community-fund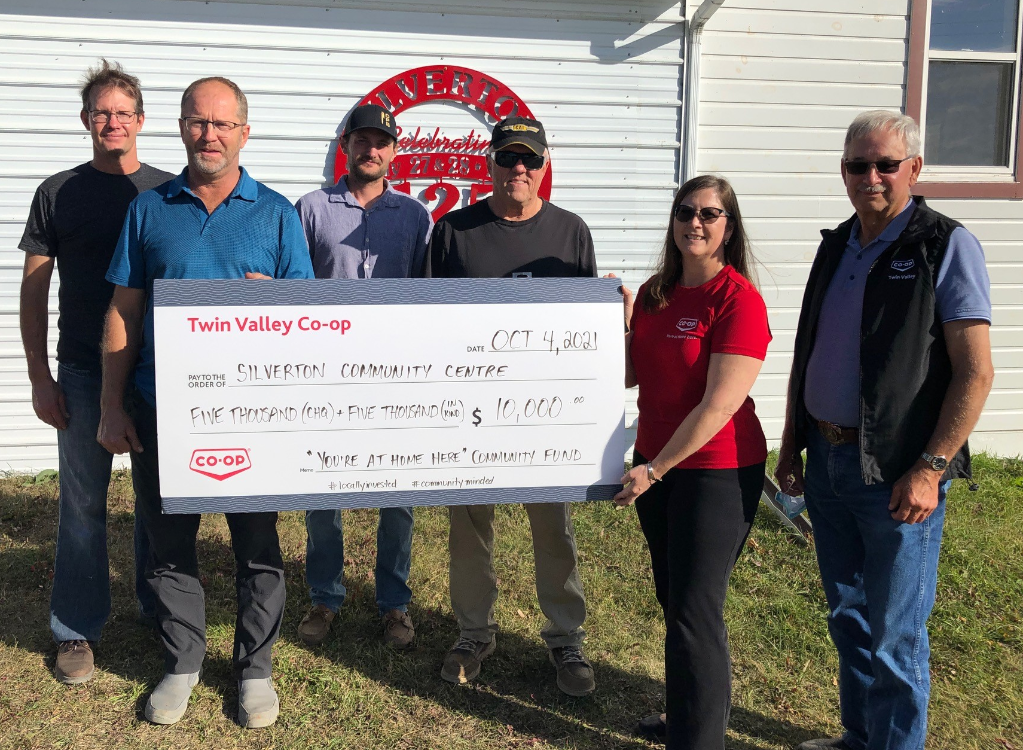 Board Members Jean Hogarth and Jim Boucher (far right) present the Silverton Community Club with a cheque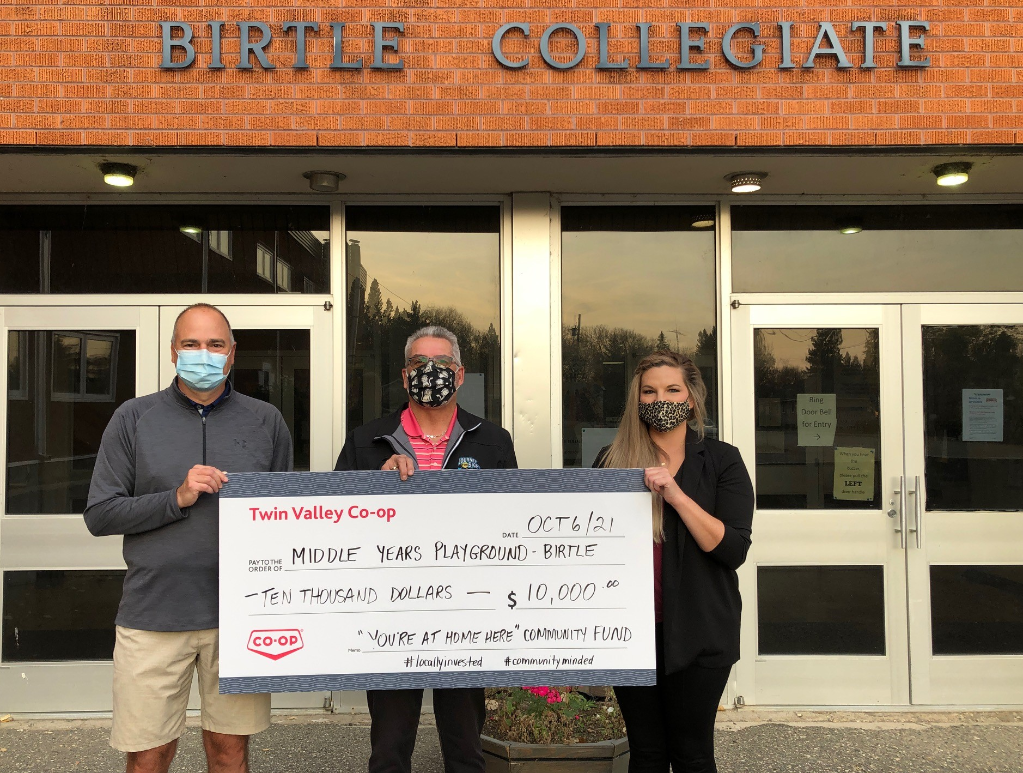 General Manager Dwayne Moncur (middle) presents Birtle Collegiate Middle Years Playground with a cheque.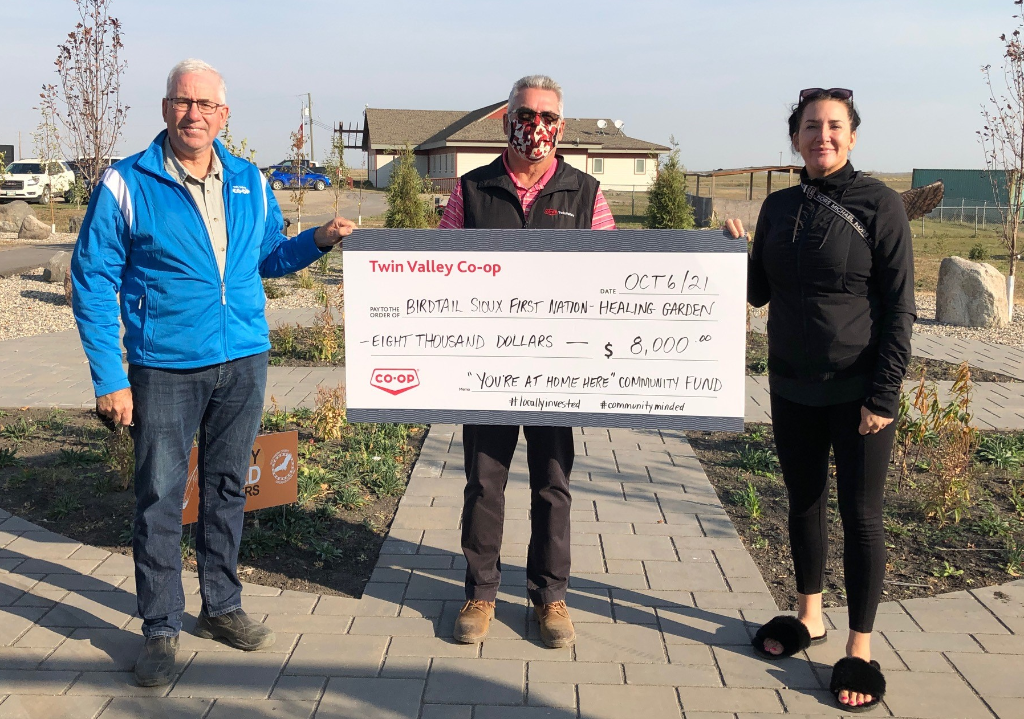 L-R: Board President Mark Morton and Dwayne Moncur, GM present Leah Lazaruk of Birdtail Sioux First Nation Healing Garden with a cheque

Discover more: