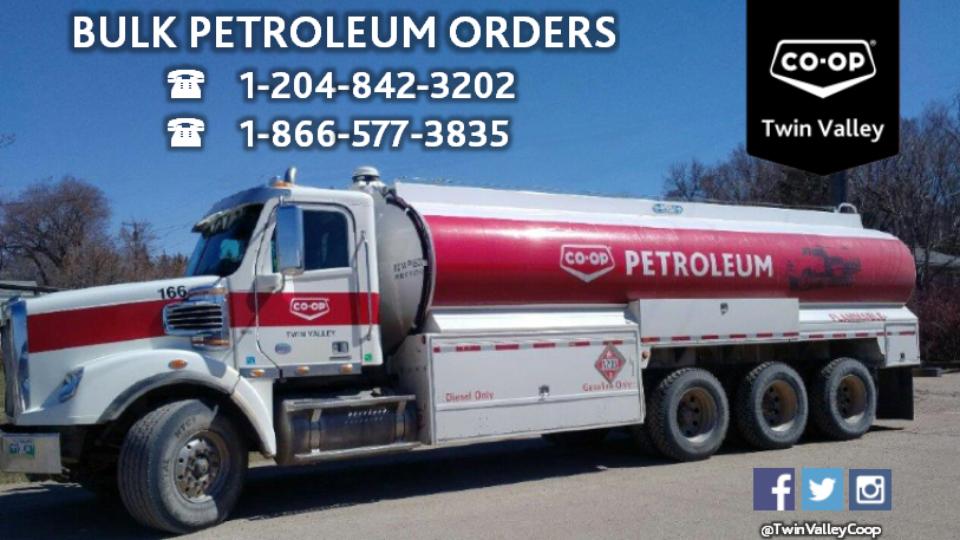 Co-op Cardlock & Bulk Fuel
February 5, 2019
Twin Valley Co-op offers fuel options for large-scale needs. Whether it's cardlock facilities for card holders, bulk petroleum facilities or bulk propane offerings, we have you covered.
We deliver to locations in Birtle, Elkhorn, Miniota, Rossburn, Russell and into Eastern Saskatchewan.
We sell the highest quality fuels from our Co-op Premium Diesel Fuel with Eco-Performance Technology to our High Performance Gasoline, all of which carry the Federated Co-operatives Ltd fuel guarantee.
Twin Valley Co-op currently runs a fleet of 3 GPS and cell phone equipped fuel delivery units. We provide weekly auto fill service, volume discounts and a patronage dividend program which allows savings to be returned to our member customers. We accept Ag Line, AgriCard, FCC and major credit cards for payment.
Click here to email us your order.
Use the Co-op Mobile App to order your fuel while on the go. Make Twin Valley Co-op your local Co-op on the app and click on Fuel / Order Fuels.
Note: Minimum drop per yard is 300 gallons or a $25 service fee applies. 36-48 hours notice during peak season is required otherwise 24 hours notice is adequate.
Cardlock
Twin Valley Co-op is part of a network of over 280 conveniently located Cardlock fuel stops. Those who have a Cardlock Card can use these facilities whenever they need fuel - 24 hours a day, 7 days a week!

Bulk Petroleum
Twin Valley Co-op offers bulk delivery of fuel. We take pride in the product we deliver and in our excellent customer service. You can order by calling 1-866-577-FUEL or 1-866-577-3835.

Propane
Whether you're at home, on the farm or at the cottage, or involved in any type of agricultural, commercial or industrial enterprise, we have the people, trucks and equipment to look after your propane needs.

Discover more: