Customer Experience - Member Survey
Actions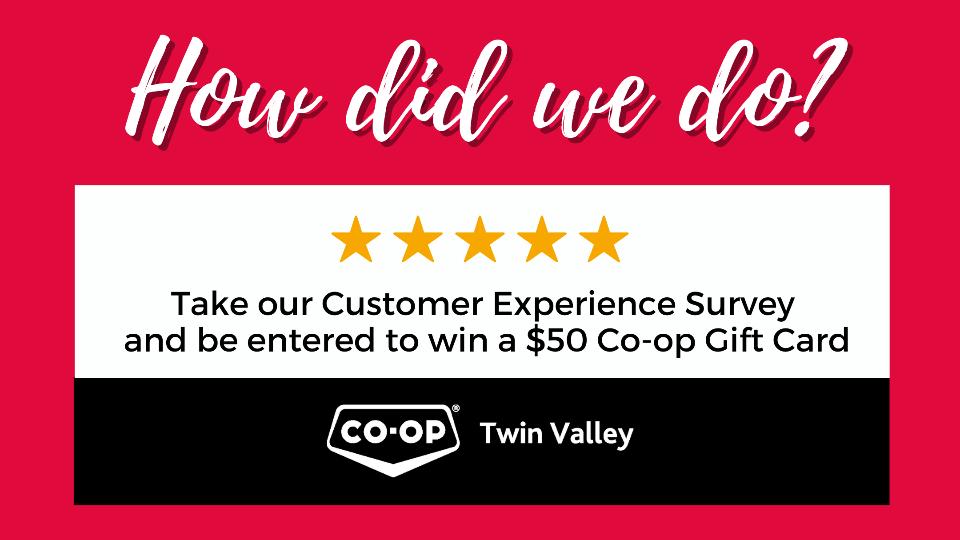 Customer Experience - Member Survey
August 8, 2022
We want to hear from you!
How was your Customer Experience today at Twin Valley Co-op?
In an effort to continually improve on our customer service, we are asking our members and customers to do a brief survey to provide feedback regarding their experience in our stores.

Enter our Member Survey for a chance to win a $50 Co-op Gift Card. Draw will be held on the last day of the month.
The information we receive will help us recognize Team Members who go above and beyond for their customers, as well as use the feedback to continually improve our stores.
Begin your Member Survey here:
https://forms.office.com/r/rDK5JFV9EL

Thank you for shopping local... at Twin Valley Co-op.
Serving you in the communities of Birtle, Elkhorn, Miniota, Rossburn and Russell.
Congratulations to winner for August: Felicity Corr

Congratulations to winner for September: Monique Glasman