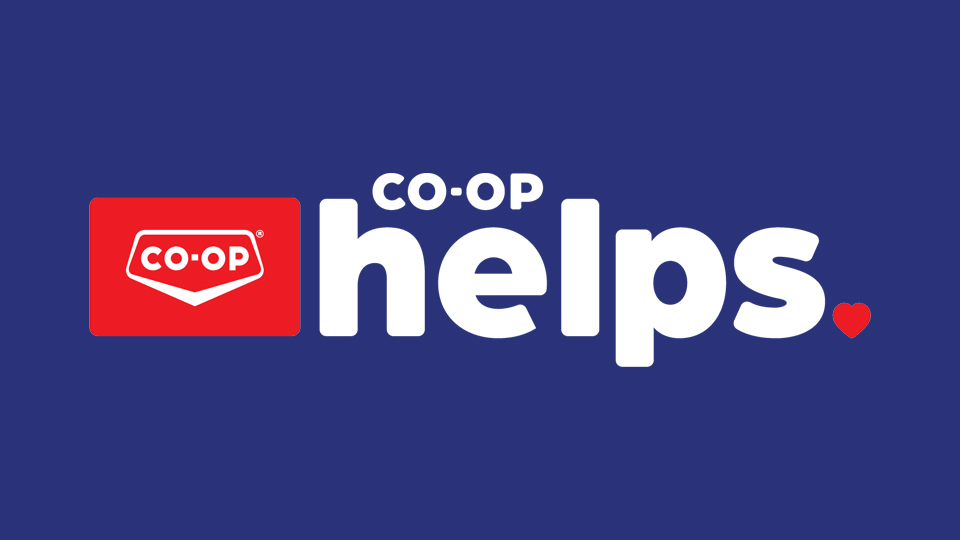 #CoopHelps
June 12, 2020
News Release: Local helpers thanked with $100 gift cards from Co-op
There have been many positive stories of people coming together and supporting one another through the challenges created by the COVID-19 pandemic – and we wanted to help say thanks.
In May, we asked you to tell us about someone going above and beyond to help their friends, neighbours or community during the pandemic. Of the 1,250 people randomly selected across Western Canada, there were 15 recipients of a $100 Co-op Gift Card in the Twin Valley Co-op area.
"Through the efforts of everyone working together to support one another, our community has been able to face the many challenges created by the pandemic these past two months," said Dwayne Moncur, General Manager of Twin Valley Co-op. "It's heartening to read the positive impact Co-op members and other members of our community are having and we just want to thank everyone for making our communities what they are."
There were nearly 4,500 submissions made during the nomination period. Nearly 27 per cent of nominations were for a frontline worker with another 19 per cent for a healthcare worker, 17 per cent for a family member and 13 per cent for a friend.
There were a wide range of stories from a care assistant working with at-risk seniors to a neighbour baking buns for the block to a school secretary helping find meals for vulnerable children and families. Recipients in our community went above and beyond as well. We will be featuring these stories on our social media channels in the next few weeks.
Co-op Helps is our way of supporting individuals and communities through the challenges of the COVID-19 pandemic. Co-op has made a $250,000 donation to food banks in Western Canada. This is in addition to the contributions local Co-ops are making in their respective communities.
For example, our Co-op has provided additional support to our community by also contributing $1000 to our local food banks in our communities, as well as over $50,000 with the "You're at home here Community Fund".
Read more Helper Highlights and ways Co-op is supporting communities across Western Canada at www.wecare.crs or www.twinvalleyco-op.crs or follow us on our social media channels @TwinValleyCoop.
Here is a list of the nominations:
"Thelma is a neighbour helping family and other neighbours. Thelma is over 80 herself but in good health and able to drive. She regularly calls in on my mother-in-law who is 86 and vision impaired. She connects with other neighbours on her street through daily visits, phone calls and through the window visits. She takes orders for groceries, picks them up and delivers. A wonderful lady who always goes above and beyond to help out."
"The ladies at the Russell Post Office handle thousands of pieces of mail and still manage to do it with smiles in spite of their obvious concern for their own health and safety. I believe they are maybe the forgotten crew during the quarantine/pandemic. $100 GC could be used for them to buy a load of treats, some flowers, just something to let them know they are appreciated by the community."
"Coleen is a great help to me. I am a senior citizen who is not well and on 24/7 oxygen .I also use a walker and have a difficult time getting around. Coleen does many acts of kindness such as bringing meals she has made, or any needed purchase I may require from Moosomin or town she has visited. She also shoveled snow and makes sure my recycling goes out and comes back in. I so appreciate all she does. Coleen is always first to help church or rink also."
"Carter has always been there to help a hand whether it's helping find something in the store, or help carry out groceries to your car. Carter loves his job and you can always tell by the smile on his face! Great Job Carter!!"
"My mom works in the healthcare facility, she's been now confined to the Long Term Care side. She's a perfect fit down there as she's so loving and passionate about all her residents. Keeping them safe is her most important thing. We're missing her like crazy!"
"Derry works in the Birtle Food Store and is the best employee they have hands down. During a crisis or just a regular day, Derry is always happy to see you, always asks to see if your doing okay."
"Kevin is a member of the local Elks organization. Early on into the pandemic when people were urged to stay home, he volunteered his time to shop for peoples groceries and deliver them from our Elkhorn Food Store. He has continued doing this throughout the pandemic and is a strong helping hand in the community. His kindness to others shows by serving others at a time when most people would shelter at home; he wanted to help others get what they needed to stay safe."
"Marcella has just done fantastic with shopping for our customers. Over the last 4 weeks, the call-ins have increased dramatically. She is on the phone with the customers and offers encouragement and support. She is the best personal shopper for our many members who need the extra hand. I do deliveries and can say she is just fantastic and so organized. I know she thinks it is just part of her job, but it has really made a difference on how we can impact peoples lives during this difficult time. She is on the phone steady and has put her own work behind to meet this need. It is great to be part of the team here at the Birtle Food Store, can't say enough about my co-workers, ALL of them."
"Our gas bar team is happy to have Sam and Zack on our team. We are sharing staff with the home centres and food stores to maintain employment, providing extra sanitation and keeping limit count of people going in and going out of the grocery store to allow for physical distancing. As far as going above and beyond, we have been keeping an eye on extra sanitization. Our customers appreciate the extras we are doing for them, and we are so glad to all pull together as a team."
"Susan approached us to see if we would put together kits for our elderly and shut in customers. She came up with the idea of a 3 colour kit - they are tags to post in the window. Green tag means everything is good, yellow tag means 'need assistance' whether that be for groceries or medicine pick up or whatever. Red tag - means stop in - I need emergency help. So we delivered these to all the customers, and in the evenings Susan and group of volunteers would canvass the community and stop in when needed. So very well received, and that people did not feel alone during this difficult time"
"When her mother and siblings came back from a trip and had to self-isolate, Lisa delivered their paper every day on her lunch hour. Before too long, she was picking up and delivering groceries too!"
"Gordon and I went out to pick up a propane tank - one of the big ones that runs a gas oven and heater. We picked it up from a customers place, filled it and delivered it back to them. Prior to helping out the customer, they had been using only a hot plate for cooking. This is an example of how helpful Gordon is, as well as all of our team here for our customers and community. A big shout out to them all."
"Derry is a team member who has an infectious, happy attitude no matter what the circumstance, even during the pandemic. In his role as cashier, he has made a difference by simply being his kind, gentle self during a time when going to the grocery store can cause anxiety for customers. He provides that brief, friendly visit at the till, making sure the customer leaves knowing that shopping local has made a difference. He sets an example for our student team members, who respect his knowledge and are willing to learn from him. He is an asset to our team as a Brand Ambassador, always has a smile for others, and genuinely cares for the people he serves in our community."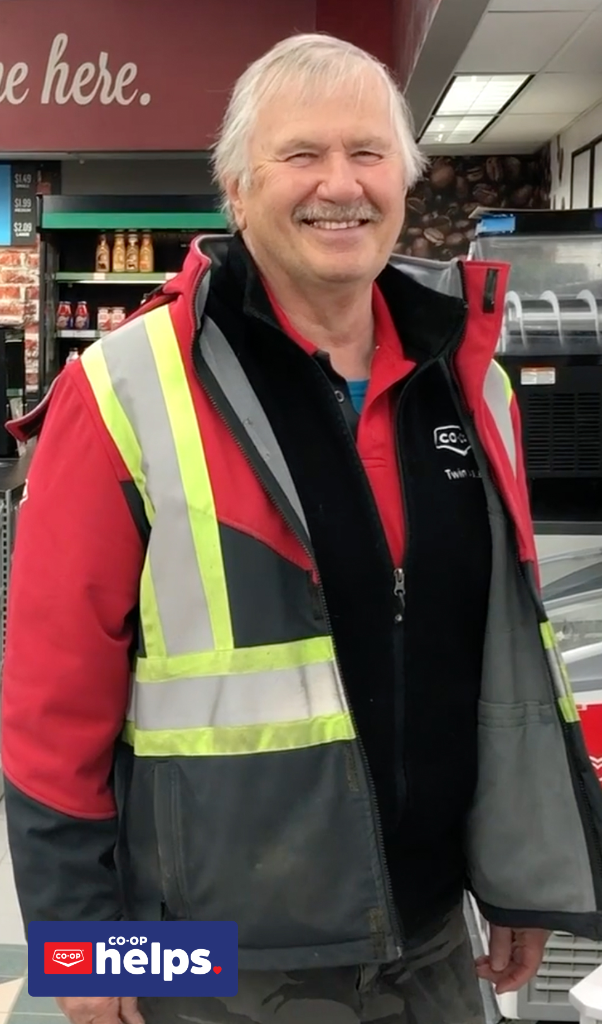 Discover more: