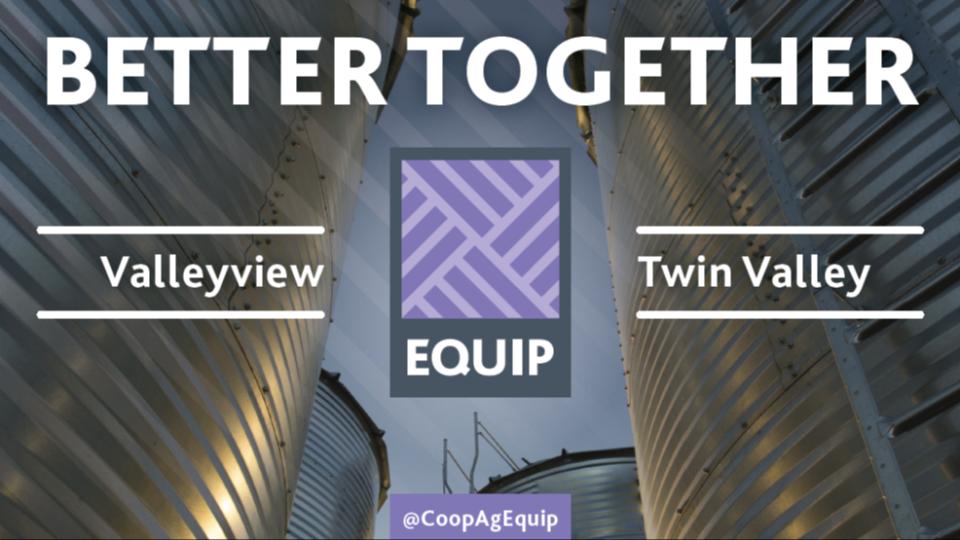 CoopAgEquip
January 20, 2021
@CoopAgEquip – Better Together. Stronger Together.
News Release: (January 20, 2021) — As the agriculture industry changes from year to year, farms are getting bigger and crops are yielding more bushels. With these expansions, the demand for larger grain storage and diversified ag equipment is rising.
In January, Twin Valley Co-op and Valleyview Co-op ag equipment teams finalized an agreement to join forces to lead this region in the ag equipment industry.
"Both Twin Valley and Valleyview Co-op have been in the ag equipment business for years," said Chris Iverson, Agro Division Manager of Twin Valley Co-op. "Those businesses were built from member's needs; now we look forward to working together as CoopAgEquip to continue providing value to our members while using the collective strength of both retails."
With substantial sales in ag equipment between the two retails, their strength will continue to grow, covering the large geographical area from the US border to north of Russell. One of their main reasons for working together was their expansion to the big bin industry.
"Whether your grain storage needs are 400 bushels or 40,000 bushels," said Barry Angyal of Valleyview Co-op, "the CoopAgEquip team has what you need. We are excited to continue working with our two manufacturing partners, AGI and Meridian who have both supported the backbone of the ag industry and have been a trusted source for bins and equipment on the farm for years."
There are many options for grain handling equipment in the marketplace as well. The CoopAgEquip team has conveyors and all types of augers, including truck loading, swing and extend; all with options suited to your needs. With the increased volume in the equipment business, the CoopAgEquip team will also be able to ensure competitive pricing.
This expansion will further build on the Co-ops brand values, of being locally invested and community minded; a brand that is built on trust, service and shared values. In order to remain relevant today and show that they are ready for the future, this expansion will help build their communities by providing employment opportunities in addition to their talented sales teams they employ today.
With the co-operation of both retails, the CoopAgEquip team will be better together, stronger together. Each retail will continue to serve its own members as far as processing the billing and equity through their home retails. Dwayne Moncur, General Manager of Twin Valley Co-op and Greg Gill, General Manager of Valleyview Co-op are looking forward to this agreement between their retails, to secure sustainability and continue their vision to be the retailer of choice for their agricultural customers.
You can follow this new initiative on Twitter by following @CoopAgEquip, 1-877-403-3127 or on the Co-op retail websites www.twinvalleyco-op.crs or www.valleyviewco-op.crs.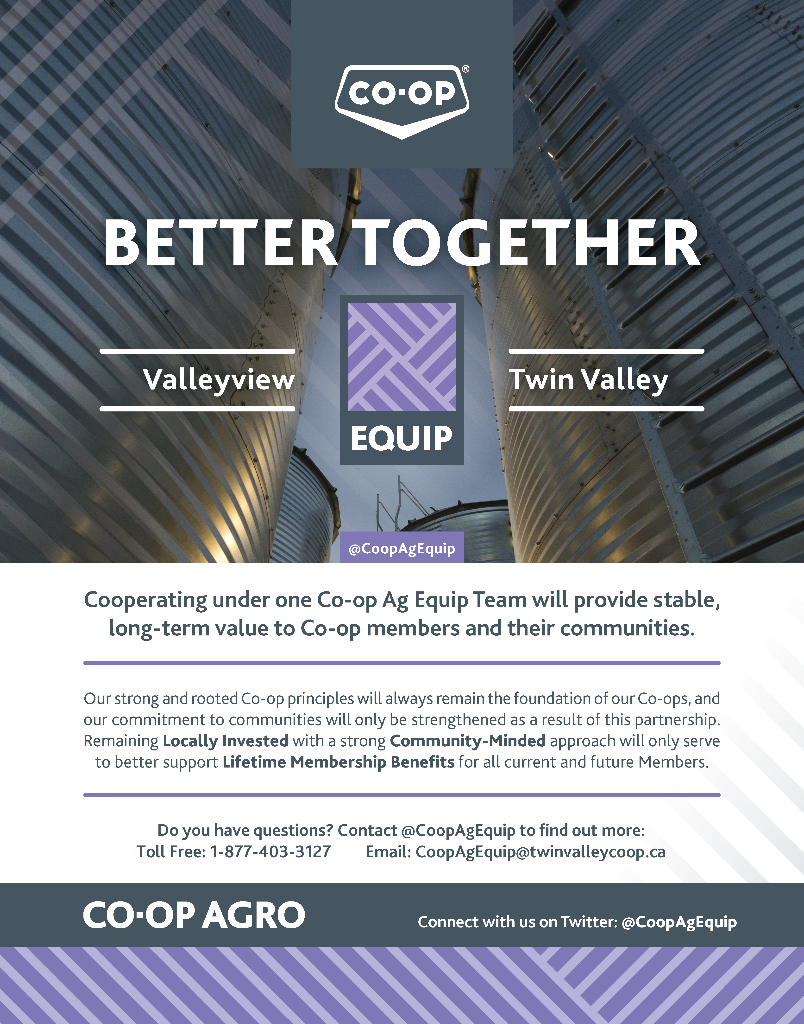 Discover more: