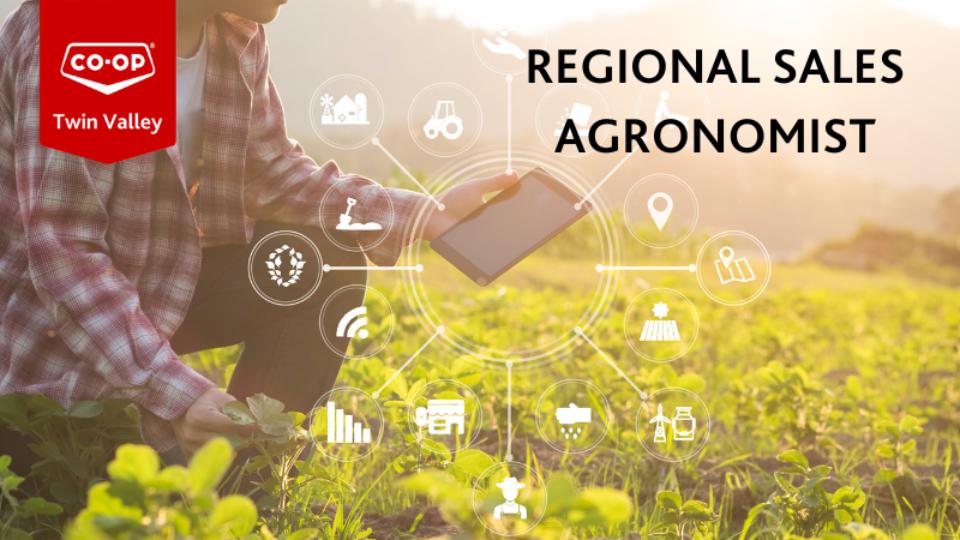 Regional Sales Agronomist
Regional Twin Valley Co-op
Description:
REGIONAL SALES AGRONOMIST

Who we are:
Co-op does business differently. As a co-operative, we believe in working together to serve Western Canadians, delivering profits back to our communities and investing in sustainable growth. To learn more about who we are and how you can help bring our brand to life, visit us at www.twinvalleyco-op.crs
What you'll do:
Reporting to the CROP PROTECTION / SEED MANAGER, the successful applicant will be self-motivated, ambitious, and energetic:
• Under direct supervision, provides routine support, services, and knowledge of agronomic products to local co-op customers. Provides basic agronomic information and advice on seed, pest identification, crop protection, and crop nutrient/fertilizer so local co-op customers can make informed decisions based on reported findings.
• Manage routine farm customer service responsibilities, including field scouting, agronomic troubleshooting, crop planning, fertility, and crop protection recommendations. Responsible to maintain knowledge of current industry best practices and trends. Adhere to standard operating procedures and safety protocols
• Support more senior team members in executing transactions and operational duties. Communicate clearly and frequently with manager and more senior team members to ensure inventory is in place to match demand. Assist with the operations of the Ag location as required. Communicate with internal and external customers regarding basic transactions and routine policy issues. Understand the short-term routine needs of assigned customers. Farm Contacts: achieve and maintain sales, margins, and inventory targets for existing customers and expand sales to new customers. Executes routine operational and/or sales support services under direct supervision
Why it matters:
Our team provides a range of products and services to support our member-owners. Through the work that we do, we help to build, fuel, feed and grow Western Canadian communities together.
Who you are:
You are looking for a career in the Ag Industry:
- Completion of a Post-secondary agricultural industry program
- Retail skills an asset
- Valid driver's license
- Excellent interpersonal, organizational, verbal, and written communication skills and willingness to train.
- Focused on safety, innovation, and teamwork.
We offer an exceptional compensation structure, benefits including health and dental coverage, and pension.
Apply by email to Human Resources Manager at hr@twinvalley.crs
We thank all candidates for their interest; however, only those selected to continue in the recruitment process will be contacted.

Application Deadline:
June 30, 2023