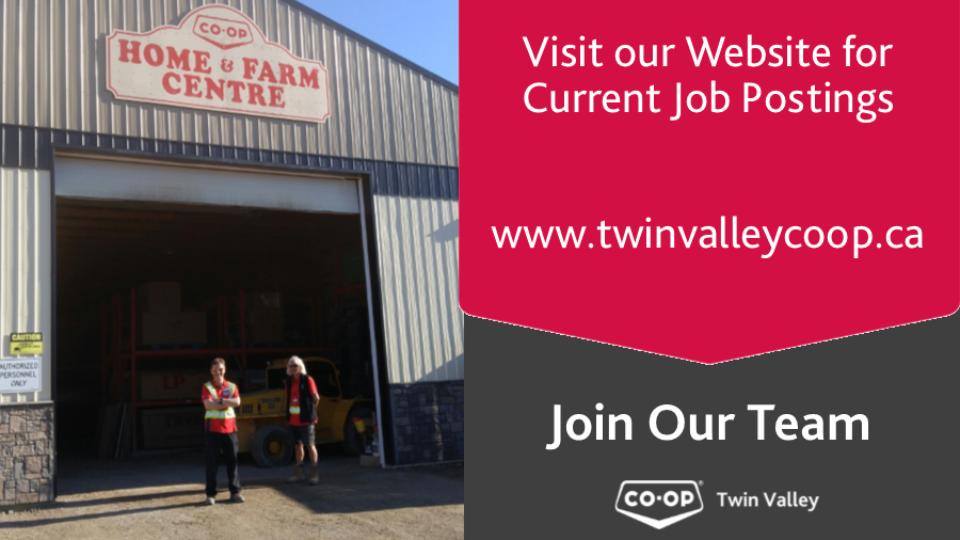 Russell Home Centre Clerk
Russell Home Centre
Description:
RUSSELL HOME CENTRE
is accepting applications for a
FULL TIME CLERK
Excellent Customer Service and Communication Skills;
able to work independently and in a team environment
Experience with Building Supplies Preferred
Class 5 License required
Applicants must be physically able to complete the job tasks
Computer and Cashier experience is an asset
Twin Valley Coop offers a competitive salary and bonus program
complimented by a comprehensive benefit package.
We are interested in recruiting, training and retaining the
best employees for our membership and communities.
If you are interested in a challenging and rewarding
employment opportunity, we look forward to talking with you.
Bring your resume to:
Crystal Michalchuk, Manager Russell Home Centre or
Email: hr@twinvalleycoop.ca
Fax: (204) 842-5326
Box 160 Birtle, MB R0M 0C0
Deadline NOON May 31, 2019
We thank all who apply but only those chosen for an interview will be contacted.
About Twin Valley Co-op
We have deep roots in our community. 90 years deep. And through the years we have proven our commitment to our members by making their priorities our priorities. We donate regularly to a wide range of organizations, feature local products prominently, and most importantly – give back to our members through Co-op Equity. We look to the past to prepare for our future vision of being the Retailer of Choice in our communities.
In this rapidly changing world, we strive to keep apace and innovate, to ensure our community footprint stays strong and true to our roots. As we innovate, we require Team members to develop fresh, modern ways to deliver our premium products with extraordinary customer service.
Application Deadline:
May 31, 2019